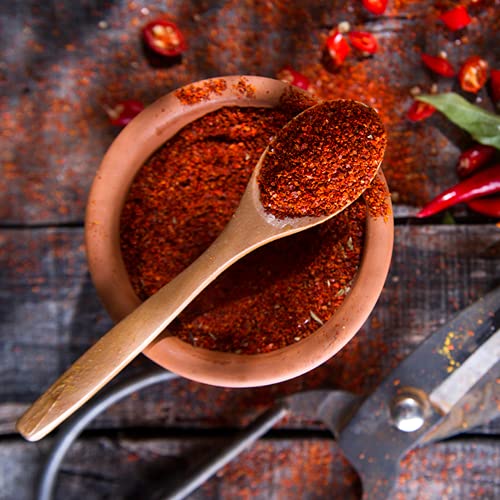 Available, delivery time 1-2 weeks
Der Natur nahe! Mit Naturalseeds!
Product number:
birdseye - ws - 50 g
Product information " Birds Eye - Ground Chili"
Our
Birds Eye
chili is hand-picked, gently sun-dried and sorted according to the highest standards. Guaranteed 1A premium quality from sunny Portugal. Packed aroma-tight and resealable. These chilies are hot, fiery and can easily be processed into powder.
Ideal for: Chilli con Carne | Hot Sauce | Spicy Chips | Chilli Sauce | Chipotle Chilli | Chilli Oil | Chilli Grinder | Chilli Flakes | Chilli Powder | Chilli Jam
One of the hottest chillies in the world making it a great addition to chili sauces. It is extremely hot and a great spice for many dishes. Grind the birds eye chili (spicy) to fine chili powder.
Mix these great chilies with, for example: Ghost Pepper, Bhut Jolokia, smoked paprika, Carolina Reaper, Habanero or other chilli seeds to make the hottest sauce in the world or grind the Birds Eye chili into chili flakes.
We can´t provide an organic certificate, but we only provide products that are 100% natural without growth aids and chemicals.

Buying from us means buying service, should you not be satisfied with the Birds eye Chili (spicy), please contact us and we will refund you.